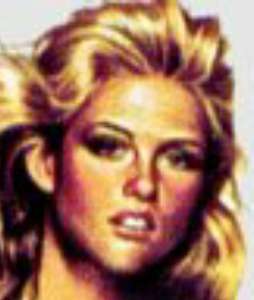 Name: Pronounced both "Recall" and "Wrek All", after the drug better known as "Johnny Mnemonic" on the street. Amy was named this way because both of her tremendous memory and her ability to wreck havoc on all and everything she doesnt like.

Body: Small and delicate, slight like a kid, elegant and well trained, Amy is one of the cutest people one can meet. Appears like a luxus girl made of chinese porcelain. Her face is a fine piece of art. An ageless look with deep brown eyes, perfect model nose and long hair in blonde waves, she has a look like a mermaid in some fantasy trid. She has the freshness of youth with her, and it is impossible to guess her age. Left-handed.

Spirit: Way of the Scientist. Amy is a doctor from a normal home, specialized in healing and not strong in battle. She has uncunning intelligence and wits and charme on her side, is curious, interested in almost everything and sometimes very naive. She likes to explore all kind of things, taking great risks to do so. On the other hand, she has a life to live. After work, Amy likes to party a LOT, going out, enjoying classic as well as trash metal concerts as long as the mood is good. Atmosphere junkie.

Weaknesses: Curiosity, lack of paranoia, hedonism.

Clothing: There are three major clothing styles: Runner, Doctor and Partygirl. Amy has a very close eye on what is appropriate at every moment.

Runner Mode: Black thight bodysuit that emphasizes her childlike figure except for the decent armor worked in, and a city camouflage duster with a holster for the pistol over all of it. Black military boots and riffling gloves as well as round mirrored sunglasses let her appear as any other dwarf runner for the first look.

Doctor Mode: Doctors wear white, and so does Amy. Almost. Black imitation leather trousers and vest, combined with black basketball boots, and above it a white doctors coat. For fine works she puts the coat aside and works with naked arms. This is also her favourite leisure clothing.

Partygirl Mode: Amy has a wide range of clothing for partys, ranging from a golden evening gala dress for the corps dinner party to a soviet army uniform for that dwarf trash metal concert.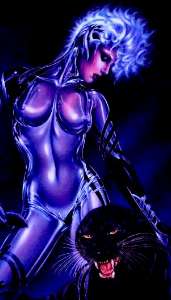 Weapons: A smart Browning Ultra Power. This brutal weapon shows additional psychological effect in her small hands, as most people dont recognize the high muscle density of dwarves. She either uses that or her mantid style Kung Fu to render opponents into the kingdom of dreams.
Matrix: Amy's persona is the naked silicon girl, a machine whose only human part is the face. She always goes only with her head deck into the matrix, and expresses this in letting her persona be naked, pointing out what is really important here - her brain and nothing else. Most of her utilities are black stripes of cloth winding around her body. Autonomous bots always appear in a panther or other black feline form.
Born as the only legitimate daughter of a dwarven doctors family, Amy was used to medical stuff from earliest childhood on. Her parents worked for Fuchi Industrial Electronics as cybertechnology doctors, but managed to have time left for her despite their extensive work and many congresses they had to attend. Amy came into the Fuchi kindergarten with 3 years and lived a normal childs life - at this state she was as big as the other children too.
At age 5 she already showed first signs of computer intelligence, playing around all the time with the cyberdeck her parents had installed in their home. she got a mental rig and was seen mostly in the matrix from this time on.
When Amy was 6 and came to school, some weeks later the computer science teacher Corben Darvin detected her talent. She and all the other guys with an edge in matrix had special lessons for becoming the prime deckers of the corp sometime. She was called Rekall from all of her friends because she could remember everything and mess the computers really up if she was in bad mood. Life went a normal turn. Amy had a lot of tech friends but also normal people with whom to play with. She lived her comfortable life, promoted in every way due to her intelligence. A normal life.
At age 10 it became obvious that Amy wouldnt grow further. Slowly, all her human friends except the techies left. She was the cutest dwarf around. Amy began to design her first matrix persona, a silicon skeleton with an evil grin. She began to turn more towards the matrix and less towards the world. School went normal and so did the computer lessons, but Amy turned now more towards hacking instead of programming.
With 14 years, whem Amy had her first boyfriend, she also began to be interested in medicine and biology. Her parents, glad to have a function in her life with her extensive medical knowledge, provided her with everything she needed. That way an excellent medical doctor should emerge.
At age 16 Amy had reached a semi-final state of growth, and against the resistance of her parents the corp allowed her to install lots of matrix gear as she reached high loyalty and awareness results, indicating she would be a loyal slave for the corp for the rest of her life. She also designed her fifth and final matrix persona - the naked silicon girl, as to indicate she wasnt as bulky as using a cyberdeck to enter the data heaven.
When she was 17 Amy first heard from her half-sister Skate who had flown towards the street from her mother. Amy slammed her father enuf to hear of his sidestep to another woman - an elven doctor. What she had not believed all the time now came true, that her family was an only wreck. Amy felt her loyalty wandering towards Skate, and within that night, she was on the street also, rescuing Skate from some real drek she had gotten into, really pissing of the sadistic dwarf Sails when burning him and his home to get Skate out of his claws. Only one day later, Darvin contacted her and used his old contacts to get them a home in the shadows and delete their entries in the corporate databases.
Since that time, 3 years now, Amy and Skate live in the shadows, living from the decker jobs Darvin has to make in the shadows. They both actually live in the matrix, partying at all decker conventions and enjoying life.
Now Amy wants to join a shadow team, under her old name... Rekall.