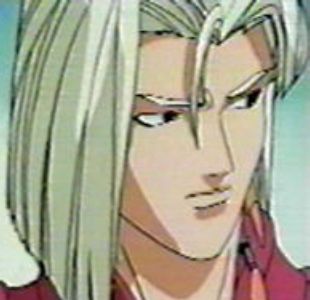 Body: A tall, musculous but slender and inimitable elegant type, some sort of Brandon Lee with pointy ears. Appears like a perfectly most-expensive-machines-trained young sunnyboy or as a hard-trained ganger, whatever the choice. His somatic powers give him additional invisible body and strength. Beautiful oval face with black eyes, slim snub nose, long blonde hair and a wide smile that seems to affect everything. Smooth skin, high cheek bones and the complete absence of beard or body hair makes him a good elf cliche. Right-hander.

Spirit: Joyful, elegant, stylish, innerly determined, strong will, urbane, sophisticated. He strives to be the perfect face, never using dumb brute force or uncivilized action. A pacifist, he refuses to use any weapons that inflict deadly damage, viewing this the "way of the stupid". Nevertheless, he is not Mr. Nice Guy. Tough as any other runner, he can handle gang rumble as well as corporate warfare, using his skills at the best he can. Always tried to get to learn the ancient elven fighting style Carromeleg but never came to it. No racial biases.

Weaknesses: No deadly weapons, no human ethics, beautiful women.

Clothing: Jack's clothing depends strongly on the situation. As a social chameleon he is willing to adapt to any situation and to feel good with it. He has no preferred clothing, except the one that are liked most by beautiful women.

Runner Mode: Black ultra security kevlar suit with waterproof chemo and thermo weavings, over it an ultra security west, and over all a city camouflage duster. Black combat boots with hidden knife holster, black kevlar gloves with a hole for the smartlink and round sunglasses add for the perfect runner look.

Yakuza Mode: White tres chic suit with minimal armor, white-black shoes, d'gray thin leather gloves, a walking stick with a snake head, and sufficient japanese behaviour convince everyone he is a good number at Mitsuhama or Nagato. Or maybe just the Toki-gumi.

Society Mode: Black or dark blue tres chic suit completely from Zoe. Black leather shoes, d'gray gloves. Only light armor included. These ones are used for corporate or high society meetings as well as the "I am the high corp exec" game.

Ganger Mode: Imitation leather, what else. The green-black colors of the ancients, light armor, a more heavily armored armor jacket with lots of chains, and the green hair band stand for the prime gang in Seattle.

Weapons: Jack has only one firearm, his infamous Ares Super Squirt. He almost always fires Narcoject shells, preferring to stun his targets rather than killing them. The weapon is just internal smart. No other mods. As he refuses to use close combat weapons, he has to defend himself with his Squirt only. Of course, if there was a Carromeleg teacher...

Born as the only child of extremely wealthy elven parents working for Nagato Corporation Seattle, Jack was soon a very luxury-spoilt kid. Although british and elven, he was accepted by all because of the "new way" of the first chairman. His father is still a technology observer, his mother the first chairman of a public relations branch of Nagato. Both of them are of noble descent in Great Britain, and they still have a vast number of influental connections to europe. They came to Nagato through a corporate fusion.

Jack was raised with most care, being educated in the best kindergarten of Nagato since age 3. Mental and bodily quickness awakened early for a child of his age, and he seemed to become a good child of good parents. However, Jack refused to be a normal child. With 6 years he already had evolved to a social chameleon, playing the appropiate role for every person each, not caring about the morality of it all. His parents allowed him to do and to have anything, and soon Jack was bored.

Age 7 was the first time when he ran away from the safe corporate environment and entered the dark city to look for new adventures. Wandering around, he met another bored child, Iria, the only daughter of two former Ancients members and nowadays bartenders. They didnt have much time for Iria, and so the most interesting relationship developed between the kid from the luxury society and the kid from the hard street. They strifed the city and the corp and had as much fun as two kids can have. Every separation was hard for them, for each evening they had to return to their parents that they didnt liked. Jack asked his parents for Pistols and Carromeleg training but only was allowed to use an Ares Squirt, and a Carromeleg teacher couldnt be found in the whole corp.

Not surprisingly, at age 11 they both were mingling around with the famous elven go gang "The Ancients", hanging around with them but never joining them since Iria was human and Jack refused to join without her. There they met Jarl. To both of them he seemed to be the coolest guy on this planet, an experienced but still adventurous elf with an never ending hunger for action. Jarl never had had kids but liked them both, teaching them how to survive with the streets and the gangs. All had much fun driving on Jarl's bike, a kicking experience no one ever forgot. At the same time Jack used the money and influence of his parents to play the social game in the Nagato tower, letting Iria and him play around with other high society people like puppets. Some of the "friends" they made would belong to the yakuza later.

The good times ended when the Ancients failed to protect Iria's parents and they both died in an gang ambush against the Halloweeners when Jack and Iria were 12. Iria closed the bar at the regret of many people that liked its style, and Jack cared for her, being almost always on the street at this time. When Iria choose to be one of the hard girls, she began to work for the yakuza and to cyber heavily. Jack had neither the will nor the possibility to stop her from doing that, but he helped her in her way as much as possible with his social talents. Jack and Jarl were the only people who could meet with Iria in this dark time.

When Jack was 13 his adept abilities showed up. He was more perceptive, stronger and more stealthy as anyone of his age could be, and his parents soon made the magic test, sending him to one of the best japanese somatic masters Nagato could provide as teachers. Jack didnt pay much attention, and his development was slow. His only interests were Iria and Jarl.

The times became worse when Jarl had a severe bike accident in a race against a helloweener as Jarl was rammed unfairly by his opponent. His whole body burned, leaving him as paraphlenic case, heavily cybered just to stay alive. Now it was at Jack's and Iria's time to care about Jarl, and for the first time Iria came out of her depressive mood when she saw that a friend had a worse time than she had. Also for the first time, Jack used his street contacts to buy a fugu-5 toxine, raiding the Halloweeners as a fighter for the Ancients. The one responsible for Jarl's crippling was a human named Bones, and he should barely survive the toxic attack Jack had prepared. Jarl retreated in his old parents house, leaving the Ancients and becoming a prime decker as Iria was growing to be a street samurai.

At age 15, Iria and Jack fell in love with each other, but they both knew it wouldnt be good for their friendship, so they decided to get another lover to weaken that feeling. Getting that other lover was a goal they both achieved with frightening ease as trained social monsters. Weakening the love feelings for each other didnt work. Until today they are walking on that edge.

Iria reopened the bar with some help of the Ancients on Jack's bidding, and the place became a more runner oriented bar since this was the way Iria was going further. Jarl had overcome most of his depressive moods, being often virtually in the bar through the matrix that was his new home. Jack visited often, but he was now taking school seriously. His parents paid the expensive private teachers, and Jack was soon on the cutting edge of knowledge, enhancing all his abilities further. He took the somatic training seriously, too. As Jack was already a shooting ace he let his parents implant him an alpha grade smartlink. All his skills became brilliant at this time.

At age 17 Jack was introduced to the yakuza world. As he had made a wide array of so-called "buddys", he was easily accepted. He took over the job of a middle manager in the weapon dealing branch his parents got for him. Two long years he managed that branch, coming to astonishing results through his intelligence and connections - corp, yakuza and street. He never lost contact to his two closest friends. The whole time Jack despised what he was forced to do, selling weapons that would kill someone one day. Iria, who also only used chemical weapons, convinced Jack that this was not the way he should go. Eventually, Jarl got an opportunity for Jack to get out of business and into the shadow biz.

At age 20 Jack said his parents and his corp goodbye, letting Jarl delete his SIN and all proof that he even existed, pretending some mega corp wanted his head for unknown reasons and that he only wanted to protect Nagato from damage. His long-hated relationship of dependence on his parents ended with that day. Having an excellent reputation in all fields of society, he soon was a respected shadowrunner.

Life's gonna rock.