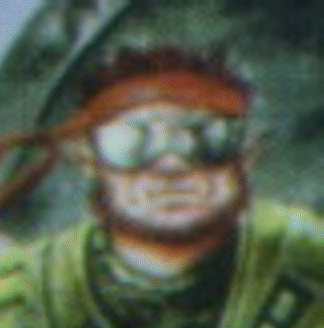 Body format Schwarzenegger. In top condition, appearance modified by surgery, but still very hairy. Hard, sharp-edged face in square format. Short d'blonde hair in military cut, always three-day beard. Large snub nose and symmetrical eyes (made by surgery), one blue-green, the other blue-gray. No warts in the face, but instead many of them in the neck and all above the rest of the body. A colored, high-quality tattoo of a spider covers lower neck and the entire back.

A warrior type. Strong, wolfpack-oriented, takes dominant position in battle. In normal situations a jolly pal, drinks like a fish, a good buddy, good-humoured, and he is game for anything. Strong military codex, unsensible, cruel, rough and hard, but not unfair. A good warrior has his respect. Cannot stand dandelion eaters and norms, but is on good terms with dwarves. He views women who are no warriors as inferiour.

Weaknesses: Codex, wodka, ready to run high risks, spends money like water.

His Cyberleg has a Robocop-like device for keeping his weight 7 kg Browning Ultra Power which is equipped with a grenade launcher, micro rocket laucher, dart thrower, shock pad, gas vents, ultrasound sight, infrared, internal smartlink and standard laser marker. The cyberleg was implanted during his army service and is a second hand part, but he doesnt know this.

Black custom-made kevlar-neoprene overbody coating with thermal and chemo weavings and packed with light armor. Heavy, armored black pilot boots and thin black leather gloves. Slate-grey waterproof duster which enuf room to replace a backpack and hide a lot of weapons. Steel testicle protector made of a titanium alloy. Above the overbody coating clothing depending upon situation: In normal operation mode black imitation leather trousers, black combat biking (Buzzsaws) t-shirt, d'blue security ultra vest, above it the slate-grey duster. In combat mode armored camouflage clothing appropriate to environment, together with a waterproof backpack for all the tools. Additional face colouring and mostly a gyro stabilizer.

Grown up as the only son of a human army officer in the Moscow megaplex. His mother was an insignificant but good-looking starlet working for a cheap moscowitan trid production. She disappeared practically immediately after his birth. Iwan spends most of his time with his father, his best friend Sergej Dalienko and a friend of his father, the army surgeon Mikael Mirnov, lungering around at military schools, canteens, military sports grounds, or in the large plex jungle of Moscow.

Iwan and Sergej join the military at age 9. Both become magically active at age 12, Iwan as hermetic conjurer and Sergej as hermetic sorcerer. At age 14 they are already members of a specially trained elite assault unit where only magically active soldiers are doing service. All members of the unit have a spider tattoo on lower neck and the whole back as the sign of this unit. All soldiers are lightly cybered.

At age 15 Iwan goblinizes and transforms into an ork. Frightened at the beginning, he soon learns to appreciate his new strength and stamina. But all soldiers of the elite team except Sergej turn away from him. After a not really coincidental "accident" on a mission he gets his messed up right leg replaced by a cyber leg. Mikael installs a few additional goodies. After recovery he wrecks revenge upon the guilty team members, but he doesnt kill anybody.

The strife escalates when his father is let down intentionally by the other team members and dies in the course of events. Iwan kills all members of his fathers team, the ringleader of hatred in his unit and vanishes by seizing a Mirage, heading toward the UCAS. The UCAS military shoots his Mirage down just before Seattle, but he can escape using the ejection seat.

It is two days later in Seattle where Iwan gets back in touch with Sergej and Mikael. Using Mikaels connections, he enters the shadow biz. Only three weeks later Sergej and Mikael arrive in Seattle as the unit makes life a living hell for them. Both of them join the UCAS army and are very welcome as magic elite soldiers. Iwan rejects this idea and continues to build his career as self-employer. Thanks to his military skills and experience he becomes a much-in-demand mercenary and shadowrunner within shortest time.

Postscript: He now knows his cyberleg is second hand ware.

Postscript: After a magical incident Iwan has gleaming red eyes to the extent that he can use them as reading lamp in the dark. He therefore uses mirrored sun glasses with surround sight most of the time.

Postscript: After some shocking events in Seattle, Iwan currently lives in Berlin, ADL.