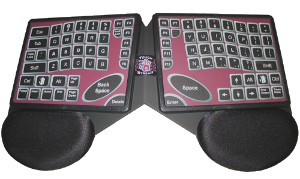 The Touchstream LP keyboard consists of two "touchpads" - with the crucial difference that the touchpad can track more than one finger; thus, it is possible to gesture. For instance, tapping thumb and middle thinger on the right board and then pulling them together is the Ctrl-X (cut) gesture.
Price: About 300 EUR. I do have this keyboard.
The good: Gesturing is extremely cool. The mouse (also thru gesturing, right hand) is usable; it is, however, more straining than a normal mouse since I have to hover the hand while using. Typing is, while error prone, faster than normal since I have only to tap lightly on the keys.
The bad: Since I cannot feel the keys under my fingers, even after considerable time my error quota is higher than on normal keyboard. Plus, contrary to the opinion on the fingerworks website, it is not feasible to rest the hands on the touchpad; I need the hand again faster than the resting action permits.
Alternatives: Since 2003-08 I also have a iGesture Pad, which is basically the one-pad version, only the mouse plus gesture functions. With it, I am quite content; while the fatigue problem persists, everything else is splendid.
As of 2006, the fingerworks company does not exist anymore, so you cannot buy the TouchStream products.
Additional reviews: [extremetech]